Are you a health provider in need of office space for your practice? Come join our vibrant community of helping professionals. Our community comprises 6 mental health counselors, each of whom operates their own private practice.
As of July 2023, there are currently 3 private offices available in our suite of 4 offices. 2 offices (Office #2 and Office #3) are available full-time; the 3rd office (Office #1) is available part-time on Mondays and Fridays. The available offices are cozy, private, and would be ideal for a counselor, massage practitioner, medication provider, acupuncturist, nutritionist, or other healing professional. Come join a tradition of healing and helping the community that's been in the Stadium District for almost 40 years!
Each space is approximately 11′ x 11′, 120 square feet.
Partially furnished, or unfurnished as suits your needs
Close to the new Tacoma Link Light Rail, Wright Park, Stadium Thriftway, and Pierce Transit bus service
Wi-Fi available
24 hour access
New HVAC with Central AC and Central heating as of Sept 2022
Shared amenities for all tenants includes: microwave, water cooler, refrigerator
Shared lobby space for clients
Shared restroom for clients and tenants with key-code entry
Flexible leases available. Full-time lease preferred.
Part-time lease is $180/month for one day a week (1 day = $180/month, 2 days = $360/month, 3 days = $540, etc.). Full-time lease is $650/month (discount of $250/month).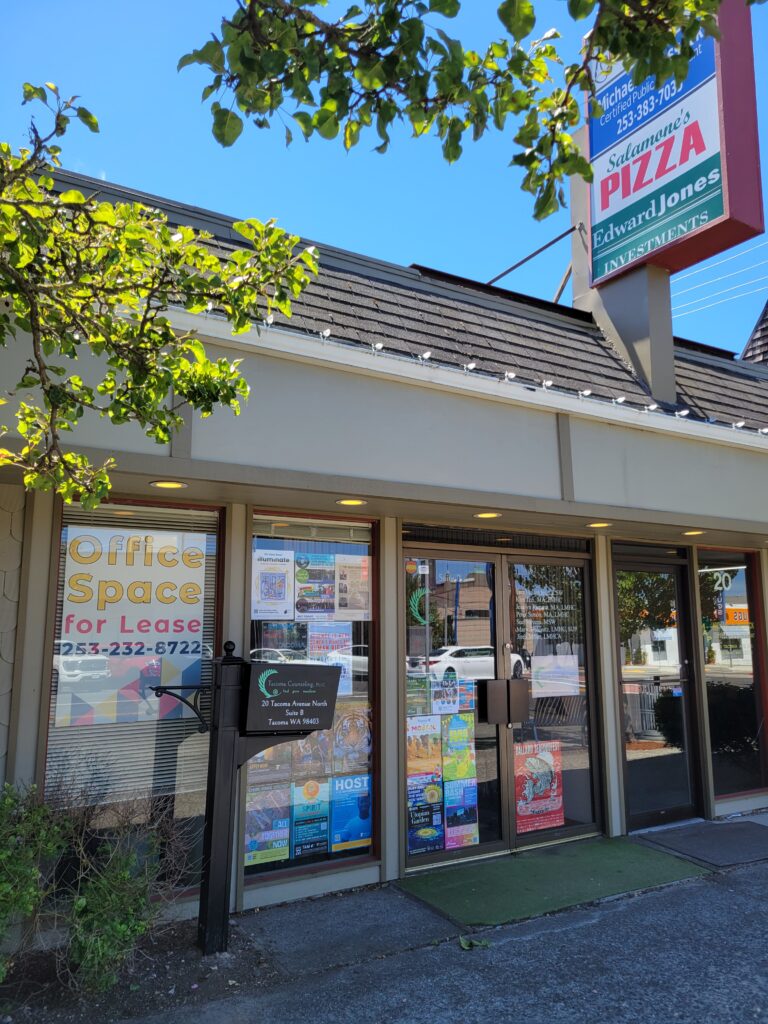 Interested? Please direct all inquiries, including scheduling a time to view the spaces, to Pete Simon, LMHC at 253 232 8722. Call or text. I respond faster to text. Or, email me at: [email protected]